ALMiG are an extremely large well established (since 1923) top quality German Manufacturer and World wide operator.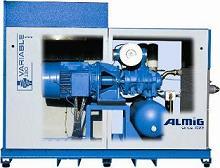 Last year they supplied 10,000 air compressors into the world market.
They offer the world widest range of variable speed drive machines and following the launch of a new machine at the 'Hannover Messe' in April 2009 they will have the widest range of oil free machines available in the market.
Their range, quality and experience makes them an ideal choice for P.A.C.E. To make the best selection to suit our clients needs accurately.
The name of ALMiG stands for top grade, innovative technology and service concepts as well as customer accessibility.
ALMIG has emerged from a company with a long tradition whose products in the compressed air industry have always stood for quality, innovation and consideration of its customers.