Las Vegas Chicago Pneumatic Products
Looking for Las Vegas Chicago Pneumatic air compressors? Chicago Pneumatic Construction Equipment's CPS 850 portable diesel compressor is available in Las Vegas, Nevada. The compressor can work a range of applications with variable flow and pressure control, making it an incredibly versatile solution on the jobsite. The 850 CFM compressor also features easy operation, simplified maintenance, and a maximum amount of uptime. Air Center Nevada also provides expert repair and maintenance for the entire Chicago Pneumatic line of products.
Equipped with a 250 hp, 6-cylinder John Deere T4F engine
Weight: 7,980 lbs.
203-inches long, 80-inches wide, and 86-inches tall
Adjustable working pressure between 58 – 150 psi, the compressor offers a maximum unloading pressure of 175 psi
Features an 88-gallon fuel tank that consumes fuel at 10.7 gallons per hour
Large easy-to-open doors provide quick access to the machine's components, including the air end, engine and electrical components.
The compressor features 100 percent fluid containment that is plumbed to the outside for easy access.
The low-maintenance machine has a 500-hour service interval on the engine and 1,000 hours on the compressor
Intuitive full color LCD screen controller that displays all the necessary information for the user
Easily program and view multiple parameters of the compressor and engine
Once the regulator is set to the required pressure the controller automatically adjusts the output to deliver the flow, while still maintaining fuel efficiency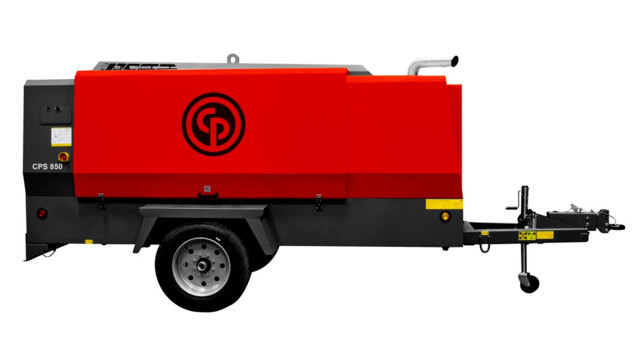 Reliability, easy maintenance and flexibility are the main characteristics of CP Compressors from Air Center Nevada in Las Vegas. Proven designs with powerful engines from well-know, well-respected brands. With noise reducing enclosures and straightforward control panels, CP portable Compressors are quiet and easy to use. Call ACN now if you have any questions about Las Vegas Chicago Pneumatic compressors!
Please be sure to check out the Air Center Nevada Facebook Page!