CompAir Compressors Repair and Maintenance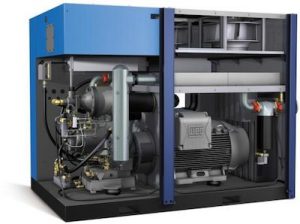 The D-Series 2-stage oil-free screw compressor is available in ranges between 75 kW and 160 kW, but irrespective of the range, the size of the package remains the same. Apart from small footprints, CompAir also offers energy efficiency and optimal energy consumption with its regulated speed models. These models provide energy savings of around 25 percent over the fixed speed unit by operating the compressor at optimal power, depending upon the requirements of the customer. Come to Air Center Nevada for all issues involving CompAir Compressors.
The product employs a WEG IE3 motor to ensure greater reliability and safety, and features an innovative Delcos XL touch screen controller for the continuous and simultaneous monitoring of the operations. It features a trend screen that captures information such as weekly average volume flow, network pressure in the factory, and weekly profiles where energy consumption can be calculated. All the quality and dependability one expects with CompAir Compressors.
"The D-Series 2-stage oil-free screw compressor is equipped with a system that controls the oil dust by generating a vacuum, thereby separating the oil dust from the air and sending the oil back into the oil system," said Frost & Sullivan Research Analyst Niranjan Paul. "This system ensures that there is no oil wastage or oil emission into the atmosphere."
For over 90 years, CompAir's oil free compressors have helped industries across the globe meet and exceed quality and production objectives in critical.  You get air purity that meets the most stringent hygienic standards and outstanding reliability for demanding applications. This new range of high efficiency, oil-free two-stage screw compressors further enhances the successful and award winning D-Series.
With the addition of ten new models, the D-Series now covers a wide flow range from 8.9 to 51.8 m3/min. The new models (from 160 to 315kW), which also utilize a CompAir designed and manufactured two-stage airend, offer oil-free and silicone-free air, in accordance with ISO 8573-1 Class 0.
Be sure to check out the Air Center Nevada Facebook Page!